The HIP Saved Us Thousands: A Case Study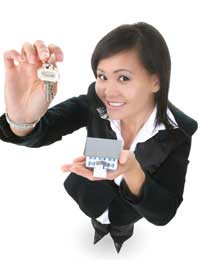 Sarah Merton and her partner had been saving for some time to put a deposit on their first property. When they came to buy they found that the HIP purchased by the owner could save them a significant amount of money! Sarah explains.
"We'd heard all the hype about Home Information Packs and were pleased when we found out, as the buyer, we didn't have to pay for it," says Sarah. "We were first-time buyers and saving up money for a deposit and then paying all the fees involved was enough without having to worry about paying for a HIP as well!
"We were buying a two bedroom terraced house in an area not far from where we were renting. We didn't want to move out of the area as we really like where we live but we did want to stop wasting money on rent.
"When we viewed the property we decided it was perfect for us. It was old but looked perfectly maintained and the decor was really modern and light. The price was good too so after a little thought we decided to go ahead and put an offer in.
Spotting A Problem
"We received the HIP the day before making an offer and thank goodness we did. The HIP included a Home Condition Report. These are not actually a compulsory part of the HIP, they are only voluntary but the owner had decided to pay the extra and include one in order to make the sale as transparent as possible.
"The Home Condition Report revealed the property had a slight problem with damp. It said the owner had recently redecorated because there had been damp patches in the living room due to the downstairs bathroom. The owner was being very open about this since it was published in the report.
"We considered this when making our offer and decided to go in £2000 under the asking price, stating the damp problem as the reason for this. The owner was perfectly reasonable about this and accepted our offer almost immediately!
"Since we've moved in we haven't had a damp problem yet but as we are aware of it we can keep an eye on it. If we weren't aware of it we would have offered more for the property and then been left footing the bill to fix it when the problem occurs again. Finding this out in the Home Condition Report, which we didn't have to pay for was brilliant.
Definite Sale
"We also knew, since the HIP was paid for by the owner - and they don't come cheap - that there was less chance of the owner changing her mind and deciding she didn't want to sell the property after all.
"We have friends who've had sales fall through at the last minute because the owner of the property decides not to sell and we know how hard it is. We think the HIP and the Home Condition Report made the sale so much easier and all above board. I know people are weary of HIPs and, obviously, as the buyer we didn't have to pay for it but I think they're a great addition to the housing industry and I wouldn't have a problem paying for one when we eventually sell up."
EXPLORE HOME INFORMATION PACKS IS FOR SALE.
This website is for sale [more info].
You might also like...